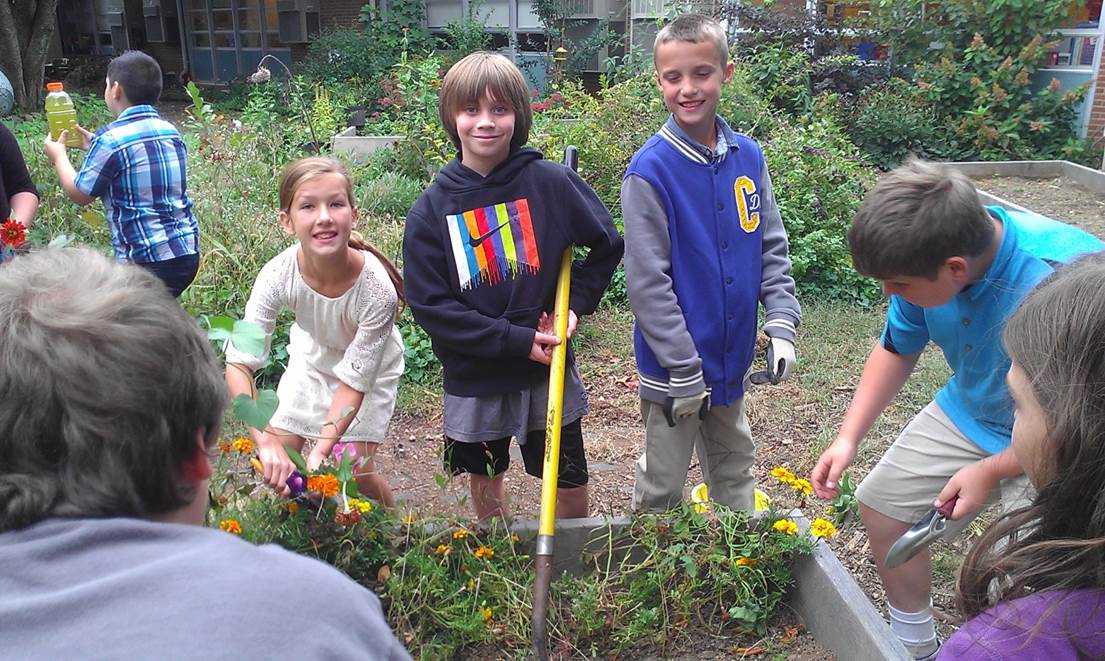 Rappahannock County Public Schools have been teaching students about local foods for years through hands-on-experiences in the school gardens and field trips to local farms. Students get the experience of growing food, harvesting, and eating it directly or providing it to the cafeteria to be incorporated into school lunches. The experience of growing food and giving back to their school develops pride and introduces the concepts of community support and service learning to our youth. In addition, the program supports the curriculum of Mrs. Sarah Moore's Project Based Learning (PBL) classes offered at Rappahannock County Elementary School. The PBL classes are new this year and reinforce "hands-on" learning, supporting authentic learning for students.
Supporting local foods week, Ms. Patti Waddell's Horticulture class and Mrs. Moore's 5th, 6th, and 7th grade classes have grown several cool weather favorites such as lettuce, spinach, radishes, Swiss chard, kale, carrots, and Asian greens to be used in our school lunches. The school cafeteria managers and staff have incorporated student-grown vegetables and locally sourced items into the school menus for this week.
Additionally, Rappahannock County Public School's Farm-to-Table program was featured in the October issue of Virginia Living magazine, as one of the "Top High Schools" in Virginia for 2014. Mrs. Moore's classes support the Farm-to-Table program at RCES and RCHS and work with local agencies such as the Piedmont Environmental Council and our Rappahannock Extension Agent, Kenner Love, to promote local foods. With help from these agencies and support from the Rappahannock County Farm Bureau and Headwaters School Foundation, our students continue to experience the rewards of living in rural Virginia. This week celebrates the 6th Annual VA Farm-to-School week November 10-14, 2014.
- Dr. Donna Matthews, Superintendent
Picture provided by Mrs. Sarah Moore
Left to right: Havilah Kleppinger, Isaiah Huff, and Luke Ellis are the three looking at the camera