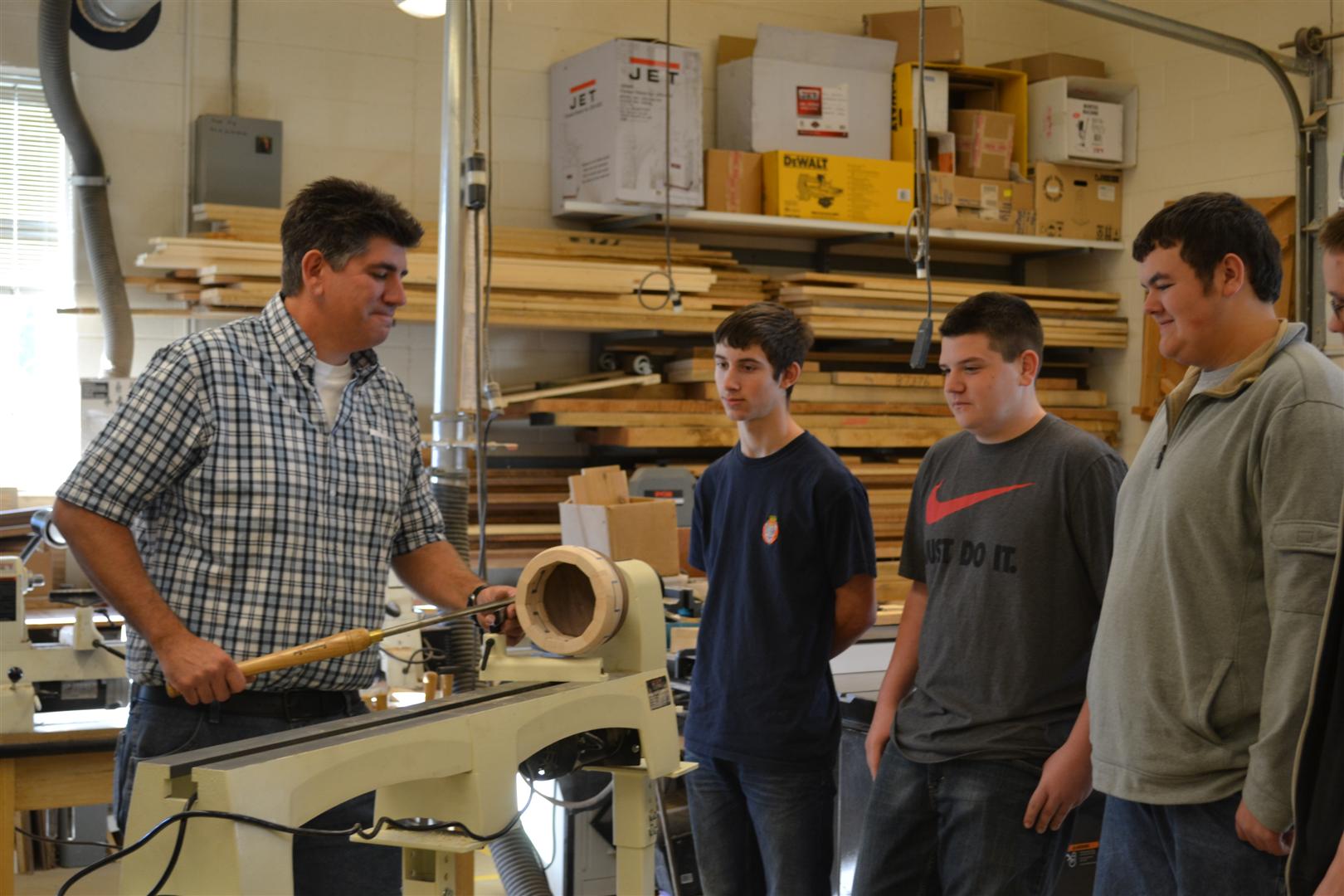 Scott Schlosser, a high school Career and Technical Education (CTE) teacher, has become a recent celebrity at Rappahannock County High School, not only for his many donations that bring top dollar at auctions and events such as Headwaters' Taste of Rappahannock and Rappahannock County High Schools' Dig Pink, but also for his recent journal publications.
Schlosser displays the skillset of a successful entrepreneur and the heart of an educator. Scott is always searching for practical projects for the students enrolled in his Building Trades classes. He has taught classes in Rappahannock for twenty-two years, including Materials and Processing, Power and Transportation, Construction Technology, and Energy and Power. In addition to teaching these CTE classes, he is in his third year of sponsoring a Woodturning Club, one of the PRIDE clubs offered at Rappahannock County High School.
According to Mr. Schlosser, his interest in woodturning started in his seventh grade shop class. Shortly after this time, his grandfather, an avid wood worker, gave Schlosser his own lathe to create projects. Refining his skills, Mr. Schlosser incorporated his passion for woodturning and his course objectives to extend workplace readiness skills beyond his classroom. In the school instruction lab, he incorporates core competencies such as, separation of materials, advanced measuring techniques, and math objectives, when using the lathe to create woodturning projects. The next step into his wood working journey came from joining the Apple Valley Woodturners Organization.
In addition to joining the Apple Valley Woodturners Organization, Mr. Schlosser is also a member of the American Association of Woodturners (AAW). Last March, Schlosser published an article describing how to construct clicker pens. This month his second article was published in the AAW journal. The article entitled, "Tea Light: Adding Texture to Your Turnings" describes the process by which he and his students make tea lights in his classes. Although membership is required to view articles online, Schlosser has established a free student membership program through the AAW where students can take advantage of the many benefits of membership in the woodturner organization. This allows his students to research topics and peak curiosity developing a stronger skillset in this fast moving career field. Students are learning entrepreneur skills and some have even begun marketing their crafts. "Woodturning is a hit with students because of its almost instant gratification," explained Schlosser. Students who participate in one of Mr. Schlosser's CTE classes are able to attend the after school Woodturner's Club on the first and third Tuesdays of each month. According to Schlosser, "The students can learn to make a pen in one class period. The results are amazing!" We are hopeful that a new generation of creative problem solvers will develop out of this hands-on experience.
- Donna Matthews, Superintendent of Schools
Picture – Left to right
Mr. Schlosser with Blake Haunold, Nick Hitt, Davyn Hitt