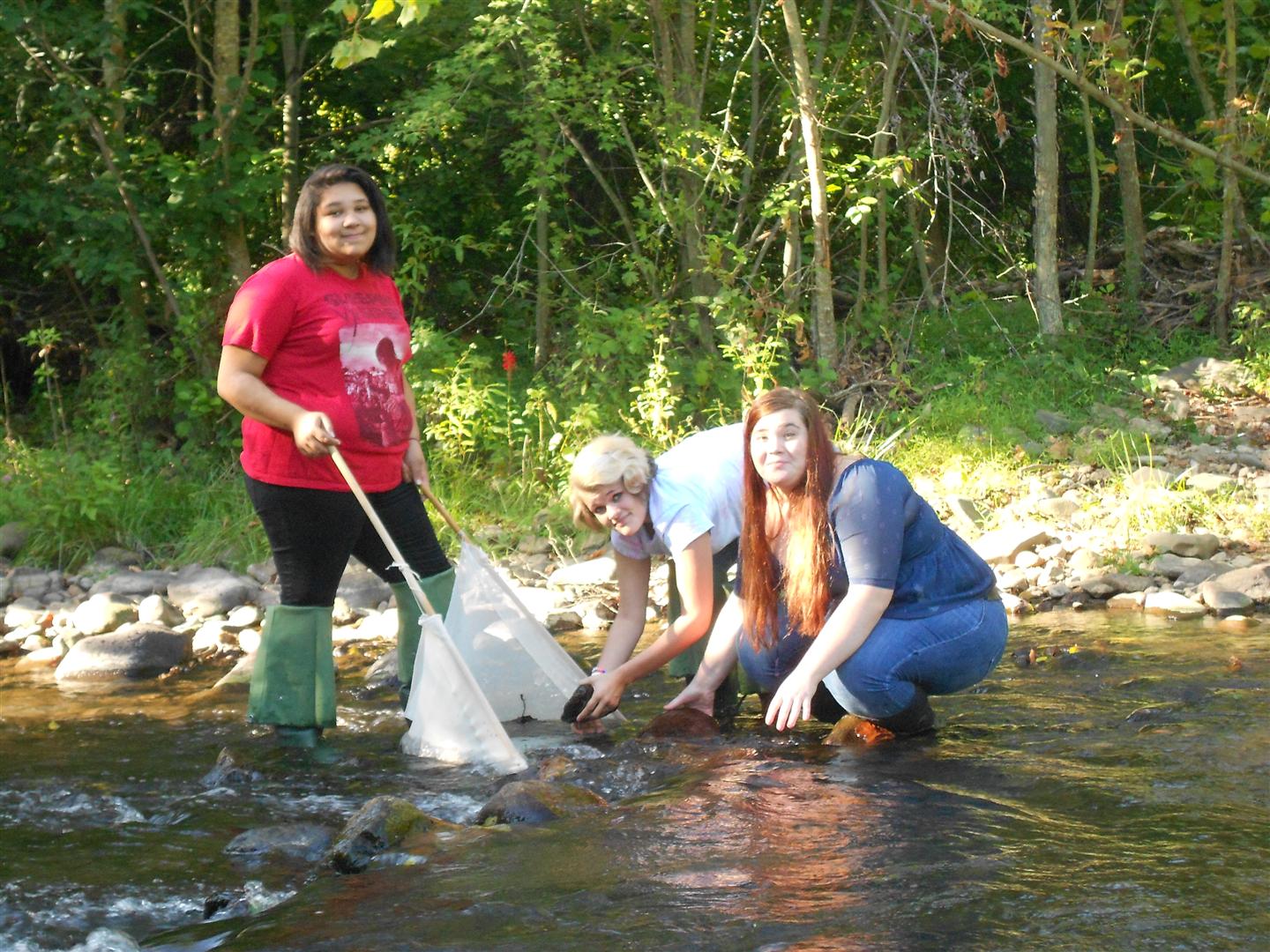 Project Based Learning (PBL) is a technique or process in which students become actively involved in their learning. Students investigate key concepts of interest related to academic coursework and become challenged by complex questions related to their investigation. This process involves content and competencies, in depth inquiry, areas of focus that relate to the overall question or concept, and development of projects that are shared with an audience or class. The overall process allows for a more complex understanding of material or concepts as students revise, research, and follow interesting leads or development within their area of focus.
With respect to incorporating the elements of Project-Based Learning, the lab science elective class at Rappahannock County High School, Environmental Science, is perhaps ahead of its time in its student-centered and student-driven design. The course is an introduction to the study of the environment, including topics such as air and water pollution, wastewater and its treatment, land use planning, recycling, ecosystems and preservation, and conservation of natural resources. Because of Rappahannock County's emphasis on the local environment, many hands-on learning experiences await the eager exploration of 11th and 12th grade student minds.
Though this year marks Karen Sanborn's first year teaching Environmental Science, she has been teaching 8th grade physical science for the past 15 years. Sanborn stated, "Environmental Science has always been a rich hands-on, investigative course so I stress to my students that they will need to take the lead in demonstrating what they learn because we are all learning this together for the first time."
Sanborn designed this year's course to be student centered coupled with guided inquiry, a design where students actually investigate issues within the curriculum that they feel are important. "Students are used to being led to the right answer, but when they start to advocate, promote, or direct their own learning, they take ownership of the material, and true learning takes place," explained Sanborn.
A large part of the Environmental Science curriculum is comprised of "extended classroom" experiences. Local Rappahannock community residents have allowed for student discovery in the field. In only one month, students enrolled in this course have already traveled to the impoundment pond in Laurel Mills (thanks to Mr. and Mrs. Bill Fannon), the woodland plot in Woodville (thanks to Dr. and Mrs. John Tole), and the stream in Sperryville (thanks to Mr. and Mrs. Cliff Miller). During these trips, students were able to engage in comparing and contrasting the various ecosystems present in Rappahannock County. Students used the scientific method, discussed theories, conducted research, and presented findings. "For each chapter, instead of a test," said Sanborn, "I'm giving the students the choice to demonstrate with some type of exhibit or project what they have learned in that chapter. It gives them the freedom to demonstrate and share what they have learned. It seems to be more fun this way, rather than taking just another test." In deciding their projects, students are expected to incorporate research, writing, vocabulary, and oral language skills in order to meet junior and senior level standards.
What's on the horizon? The next extended classroom experience will incorporate a "stream monitoring survey" following the Izaak Walton League protocol. This protocol supports the protection of soil, air, woods, and water.
The Environmental Science class, which has become very popular among high school juniors and seniors, not only offers exploration on topics of interest, but supports hands-on, real-life experiences right in our own backyard. – Dr. Donna Matthews, Superintendent of Schools
Picture from left to right-- Samantha Keys, Hope Carr, and Autumn King