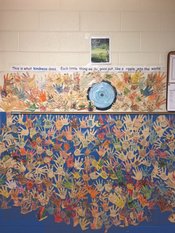 Helping Hands
Panther Pride: A Special Focus on Three Programs that Impact the RCES: Cool, Kind Kids
Program 1: Each Kindness Becomes A helping Hand
Sharing activities designed especially for our elementary school students has always been a huge hit. This year Mrs. Barbara Wheatley, our RCES Media Specialist has incorporated a special book with a reading project for the students at the elementary school….
Mrs. Wheatley explains, as a part of the Virginia Readers' Choice Program, students read or listen to 10 books. Students vote for the book of their choice to be chosen as Virginia's winning book for the year. Each Kindness by Jacqueline Woodson is on the 2015 nomination list. Mrs. Wheatley stated, "This book is about a young girl, Maya, who is new at school. Each day she smiles at Chloe and asks if she can play. Each day, Chloe and her friends say no and Maya ends up playing alone." The climax of the story happens when one day, Maya doesn't return to school. Grasping the instructional moment, Chloe's teacher shows how the ripples of a rock go out across water and explains that kindness is like this. Woodson writes, "This is what kindness does. Each little thing we do goes out, like a ripple, into the world."
….Completing the book, students were given the challenge of creating hand prints of kindness and making a collage to display within the hallways at RCES. Students in Kindergarten through fourth grade traced their hand and were asked to write something kind that they can do. Wheatley states, "These paper hands were cut out and are hanging outside the RCES Library. Hundreds of hands show the kind acts our students do every day."
This progression from story to activity demonstrate the many ways teachers use reading to promote leadership roles to students, to inspire learning, and to grow in acceptance and respect for one another.
Enjoy the hands, for these little hands will be the helping hands of tomorrow.
Dr. Donna Matthews, Superintendent and Mrs. Barbara Wheatley, Media Specialist