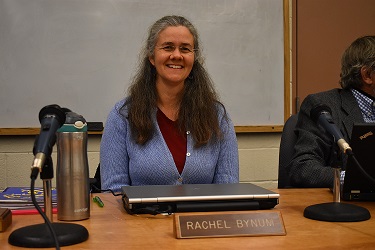 Rachel Bynum is the mother of two students at Rappahannock County Public Schools. As a community member, she has volunteered in Rappahannock Schools from the early days of the farm-to-table program, hosting dozens of field trips and helping with projects. Her oldest child started in Rappahannock schools in 2011, and she served as co-chair of the PTO playground committee at the Elementary School that year, working with administration to quickly build a new playground. She has coordinated volunteers painting large, colorful maps on the blacktop for the children to play and learn on, and has been a classroom volunteer in her kids' classes, sharing plants and gardening knowledge with hands-on curriculum aligned lessons. She also has volunteered with RappFLOW's annual Watershed Field day for 6th graders and is currently Vice President. She has hosted 2 Kids' Butterfly counts with the Old Rag Master Naturalists. She also volunteers with our local Community Theater.
She graduated from East Hampton (CT) High school in 1991. Her first school board meetings were as the High School Student Council representative to the local Board of Education. She attended Carleton College in Northfield, MN and graduated, Cum Laude, in 1995, with a B.A. in Environmental Studies, concentrating in Natural History. After college, Rachel worked several jobs as an outdoor educator, teaching teambuilding, environmental science, and outdoor skills to a variety of students. She also worked several summers on a vegetable farm in Northern Virginia.
She and her husband, Eric Plaksin, moved to Rappahannock County and started Waterpenny Farm in Sperryville in 2000. They have made their living farming ever since, direct-marketing their produce at DC area markets and on the farm. Rachel has led farming workshops at several local and regional Sustainable Agriculture conferences, including Future Harvest, the Southern Sustainable Agriculture Working Group, and the Smithsonian Conservation Biology Institute.
Rachel wants all the kids who grow up here to understand the unique treasure we have in Rappahannock County, as well as the full range of possibilities the wide world offers them. She supports enrichment in the Arts, Sciences, and Social Sciences for all students at all grade and academic levels. In planning future offerings for our students, she sees the menu of options expanding further through community partnerships. She is impressed with the dedicated and caring school staff, and values retaining our teachers and attracting more excellent staff to help Rappahannock students become capable, resilient, well-rounded citizens later in life.
Rachel can be contacted at RBynum@rappahannockschools.us